Middle School Youth Ministry
Middle School Youth Group is based on the Edge model. It provides a safe fun place for youth to find solid Catholic community, to get answers to their questions about faith, and, most importantly, to experience Jesus in a profound and personal way. Edge resources speak to the physical, psychological, cognitive, relational, and spiritual maturation of middle school youth. Middle Schoolers are able to attend the Archdiocese of Denver middle school retreat, Mountain Madness, in Estes Park, Colorado, February 14-16, 2020.
Middle school meets on Wednesdays from 6:30-7:30pm. For students who have not yet been confirmed, weekly participation is expected, in addition to attendance at sacramental preparation workshops. Please see Confirmation for more information.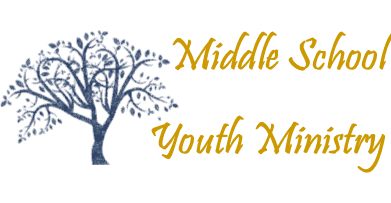 Fall Semester
Oct 2 – Kick-Off
Oct 9 – Dice of Destiny
Oct 23 – Art Show
Nov 6 – Proof in the Paint
Nov 13 – Museum
Nov 20 – The Artist
Dec 4 – Restoration
Dec 11 – Masterpiece
Dec 18 – Christmas Party
Please register so that we have emergency and allergy information!
Register now!
Questions about middle school faith formation?