Middle School Youth Ministry
Middle School Youth Group is based on the Edge model. It provides a safe fun place for youth to find solid Catholic community, to get answers to their questions about faith, and, most importantly, to experience Jesus in a profound and personal way. Edge resources speak to the physical, psychological, cognitive, relational, and spiritual maturation of middle school youth. Middle Schoolers are able to attend the Archdiocese of Denver middle school retreat, Mountain Madness, in Estes Park, Colorado, February 14-16, 2020.
Middle school meets on Wednesdays from 6:30-7:30pm. For students who have not yet been confirmed, weekly participation is expected, in addition to attendance at sacramental preparation workshops. Please see Confirmation for more information.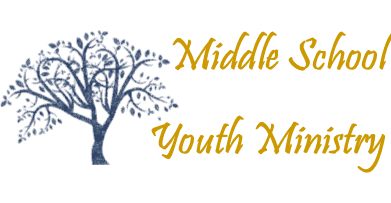 Spring Semester
January 8th – Long Live the King
January 15th – Royal Descent
January 22nd – Hear
January 29th – Battle Cry
February 5th – Defeated
February 12th – Trust
February 14th-16th – Mountain Madness
February 19th – Triumphant
March 4th – A Legacy
March 11th – Soup Night
March 25th – Move
April 1st – Soup Night
April 15th – Rest
April 22nd – Eternal Kingdom
April 29th – Celebration
Please register so that we have emergency and allergy information!
Register now!
Questions about middle school faith formation?